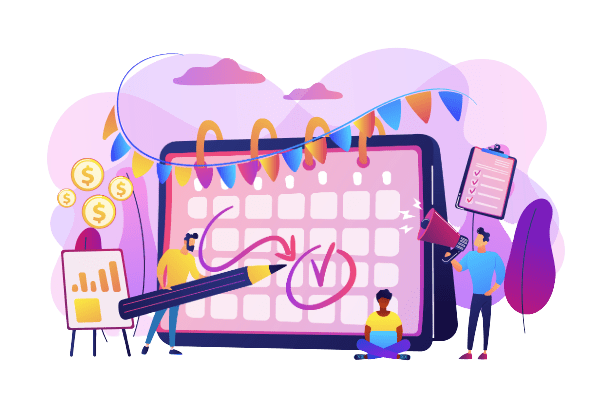 Manage
Event Portfolios...
Calendar of Events...
Professional Website...
Leads & Customers...
Invoices & Payments...
Client Projects...
Company Assets...
Marketing Collaterals...
Event Management CRM Solutions
Let's bring everything your event management firm needs digitally under a single dashboard.
Tools To Run Your Business
Your digital needs, covered under a single dashboard that lets you manage your digital presence efficiently & economically.
Our Subscription Also Includes:
All our subscriptions include features that are necessary to showcase your business, handle your customers and manage your business data effectively.
Take your business online today by subscribing to our annual plan. You may also request a demo from our experts by filling a simple form below.
*Buy additional space whenever needed for as low as ₹5 per GB, monthly!
*Buy additional space whenever needed for as low as ₹5 per GB, monthly!
From individuals to sophisticated businesses, everyone is migrating for a better experience. Start growing with enKast today.
Our subscribers are our family and our family have something nice to say about us.
enKast has all the required tools for any institution to go digital. We have been using it for a few months. It gives us a lot of flexibility to manage everything all by yourself with ease even without any technical knowledge.
Excellent work done and I'm pleased with the results. Best part is you can design your website effortlessly with their tool. Their support has been really good through out our project. Great team to work with.
Happy happy happy! Was able to learn quickly and now I can work when I want and how I want without any dependency on others to showcase my business online. enKast has made me independent. Kudos to team enKast!
enKast has played an important role for our business to excel in the digital forefront. It also minimized the need of subscribing for multiple vendors as they provide wide range of features at one place. Productive & cost effective.
Being a photographer I travel a lot and it gets difficult to coordinate with a service based company to assist me. Would prefer using all tools during my free time without any technical hassle and that's where enkast stands out for me. Couldn't have asked for more
To know more about our offerings, contact us today on +91 888 481 8881 or 080 4549 3038
enKast provides you a dashboard that lets you personalize the way your business is digitally dressed & addressed. A place where you present your business uniquely and that shows-off, the smarter way.
© 2021 All rights reserved. Proudly built using enKast.